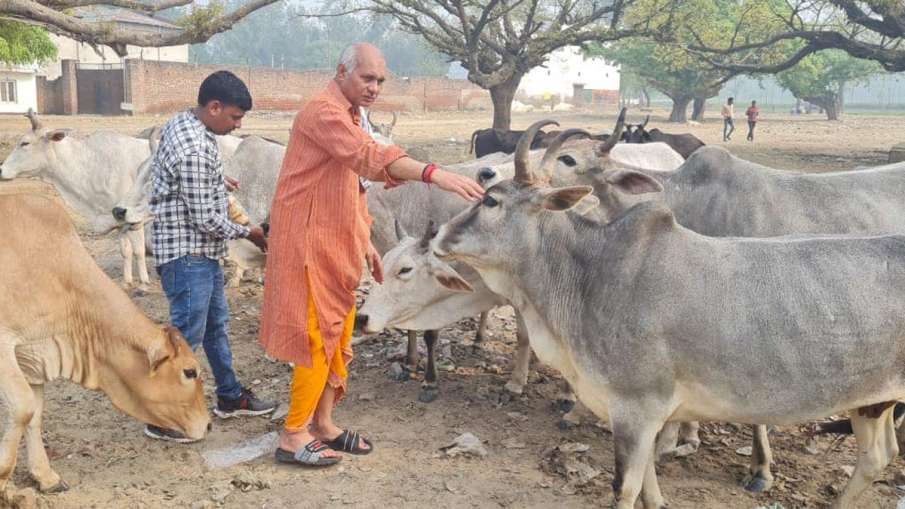 Bareilly: Dharampal Singh, Minister of Livestock, Milk Development and Minority Welfare of the Uttar Pradesh government on Saturday claimed that "terrorism and terrorists will no longer be talked about in madrassas, but nationalism will be taught under the National Education Policy". At the Indian Veterinary Research Institute (IVRI) on Saturday, Singh said madrassas would be made hi-tech. He said that the lands of waqfs and cowsheds would be freed from mafia. Singh said that in the Waqf lands which are occupied by the mafia, a bulldozer will now be conducted after conducting a survey and that land will be used for minority welfare.
Will get the possession of cowsheds removed: Singh
The minister said that after discussing with Chief Minister Adityanath Yogi, an order would be issued for all the district magistrates of the state and the districts where the land of cowsheds have been occupied by the land mafia, free them from possession and get them sowing of fodder, so that fodder There will be no shortage of Singh has said that the Uttar Pradesh government will work to protect cows and big cow shelters will be constructed in every Nyaya Panchayat of the state. He said that cows would not be kept loose in the gaushalas, but would be kept tied with pegs, and improved quality milch cows would also be kept in the gaushalas.
'Farmers are also to blame for the abandoned cow lineage'
The Livestock Minister said that many daily use products would be prepared from the milk, dung and urine available in the cowsheds. He said that the gaushalas would be financially enriched so that there is no need for outside help for their management. On the question of the loss caused by the stray animals, Dharampal Singh said that farmers' crops will be protected due to 100 percent leave in cow shelters. He also said that the farmers are also guilty for the loose cow lineage because when the cow does not give milk, the farmer leaves it free and binds it again after giving milk.
'Lakshmi in cow dung, Ganga in urine'
Dharampal Singh said that there are 5 substances found in the cow, which are milk, curd, ghee, dung and urine. Singh said that Lakshmi resides in cow dung and Ganga resides in urine and germs are also destroyed by cow urine. On the question of making Amla a district, he said that the Chief Minister has asked for a report to make Amla a district and the report of making a new district has also gone. It is noteworthy that Dharampal Singh is getting elected from Amla assembly constituency for the last several times. It is also the tehsil headquarters of Bareilly district. (Language)