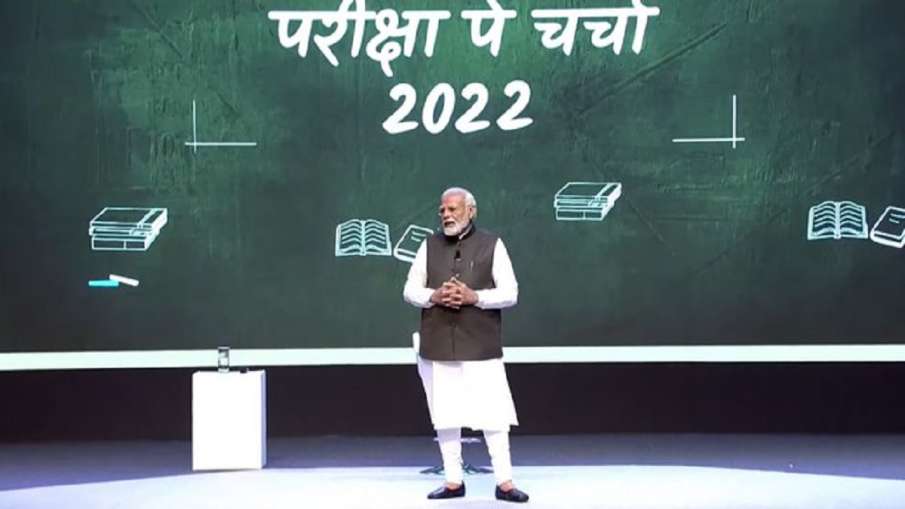 Highlights
Students asked questions to PM Modi in Pariksha Pe Charcha program
PM Modi also praised the children operating the stage
Try to live the moment you are in – PM Modi
New Delhi: Prime Minister Narendra Modi on Friday interacted with students during the annual 'Pariksha Pe Charcha' and advised them to treat exams as festivals. The Prime Minister told the people present at Talkatora Stadium amidst applause, "This is my favorite program, but I could not meet you due to Kovid. This gives me a lot of happiness, because I am meeting you after a long time." PM Modi said that, we need to run P3 movement in the world. Pro-Planet -People, if more and more people join this P3 movement, then we will get benefit from it.
Addressing the 5th edition of the discussion program on examination, PM Modi said that I do not believe that we should study for the examination, that is where the mistake happens. I will study for this test, then I will study for that test. It means that you are not studying, you are looking for herbs that will make your job easier. If you have completely absorbed your education, then the form of examination does not become a hindrance. So instead of expending our mind in preparing ourselves for the exam, we should work hard to become a master of the subject, to make ourselves a qualified, educated person.
PM Modi said, "Who is nervous? You or your parents? The parents of most of the people here are nervous. If we make examination a festival, then it will become alive." Responding to a question, the Prime Minister said that the National Education Policy has been wholeheartedly welcomed by every section of the country. Kenny Patel from Vadodara, Gujarat asked how any course can be completed with proper preparation (revision) and adequate sleep. Modi said, "Why are you so nervous? You won't take the test the first time. Now you are getting closer to the last stop. You have crossed the whole sea, now you are afraid of drowning coming near the shore?
PM Modi said that, if the society lags behind in knowing the potential of daughters, then that society can never progress. I have seen many such daughters, who did not marry themselves for the happiness of their parents and their old age and spent their lives in the service of the parents. What sons cannot do, daughters have done. In the Pariksha Pe Charcha program, Prime Minister Modi said that meditation is very simple. Try to live the moment you are in. If you live that moment to the fullest, it becomes your strength. The greatest gift of God is the present. For one who knows the present, who is able to live it, there is no question of the future. Knowing yourself is very important. Know what are the things in it that frustrate you, know them and put them aside. Then you know what things inspire you easily. You must analyze your own subject.
Let us tell you that 'Pariksha Pe Charcha' is being organized by the Department of School Education and Literacy, Ministry of Education for the last four years. The first three times it was organized in Delhi in an 'interactive town-hall' format. The fourth edition was held online on April 7 last year.