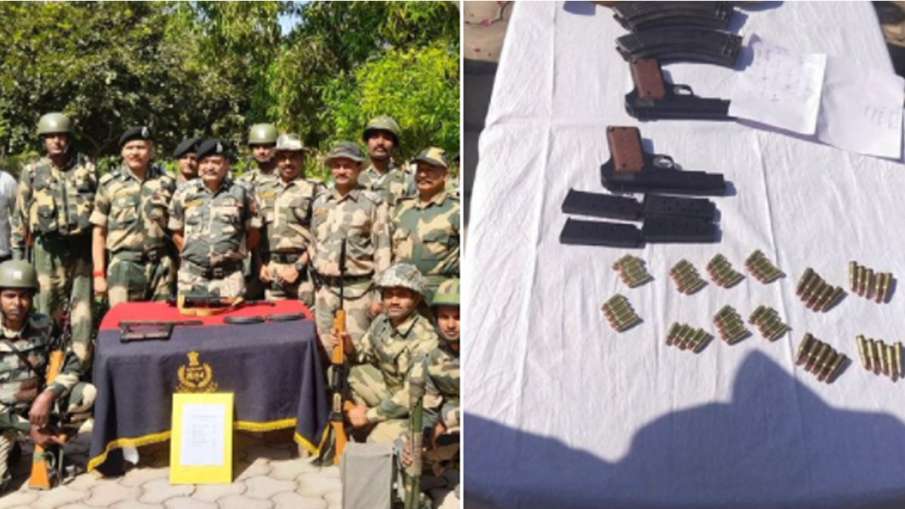 Highlights
SSO launched on IB in Pargwal sub-sector of Akhnoor
A bag full of arms and ammunition recovered
Security forces once again put a stop to the infamous activities of Pakistani terrorists
Jammu: The Border Security Force (BSF) on Thursday recovered a cache of arms and ammunition during a special search operation along the International Border (IB) in Jammu. Officials said there were intelligence inputs that Pakistan-based terrorists were trying to smuggle weapons into Indian territory. After which a Special Search Operation (SSO) was launched. After receiving the information, the security forces were on high alert and regularly patrolling the areas near the three-tier fencing along the International Border.
Weapons recovered in large quantities
Officials said that SSO was launched on IB in Pargwal sub-sector of Akhnoor and during this a bag full of arms and ammunition was recovered. Officials said the recovered weapons included one AK-47 rifle, 20 rounds of AK-47 rifle, two magazines, two Italian-made pistols, 40 pistol rounds and four pistol magazines.
Pakistan's plans were dashed
Security forces have avoided a major incident by stopping this consignment of weapons from Pakistan from reaching India. Talking to reporters, BSF Deputy Inspector General (DIG) SK Singh said that the security forces have once again exposed the nefarious designs of Pakistani terrorists and put a stop to their notorious activities. He said that the Border Security Force is always vigilant and committed to protect the international border.
(input language)