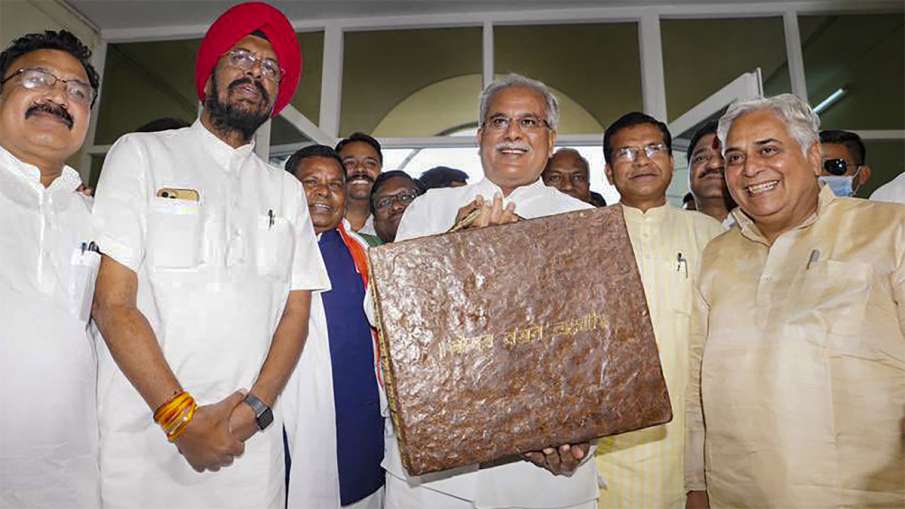 Raipur: Chhattisgarh Chief Minister Bhupesh Baghel presented the budget for the financial year 2022-23 in the assembly on Wednesday. Baghel also holds the charge of the finance department and presented a budget of Rs 1.04 lakh crore for the fiscal year 2022-23. During this, he made many other announcements including implementing the old pension scheme in the state and waiving the examination fee of the local participants in the competitive examinations conducted by Chhattisgarh Professional Examination Board and Chhattisgarh Public Service Commission.
'Service Village will be established in Nava Raipur'
Chief Minister Baghel said in his budget speech that it is my good fortune that in the year of 75th anniversary of India's independence, I am presenting this budget of my government. He said, 'I am satisfied that during the last three years our government has taken meaningful steps towards fulfilling the dreams of Mahatma Gandhi, the hero of freedom of the nation. To cherish the memories of Bapu and to show the paths of development based on his ideas, Sewa Gram will be established in Nava Raipur. The estimated cost of this project is Rs 100 crore. After Rajasthan, Chhattisgarh also announced to implement the old pension system.
'Estimated total revenue surplus of 701 crore in 2022-23'
Baghel said that the gross financial deficit of the state of Chhattisgarh is estimated at Rs 14,600 crore, which is 3.3 percent of the state's GDP. The net expenditure for the year 2022-23 is estimated at Rs. He said that the total revenue receipt of the state is estimated at Rs 89 thousand 73 crore and the total revenue expenditure is estimated at 88 thousand 372 crore. Therefore a total revenue surplus of 701 crores is estimated in the year 2022-23. Baghel said that no new tax is proposed in the budget for the year 2022-23.