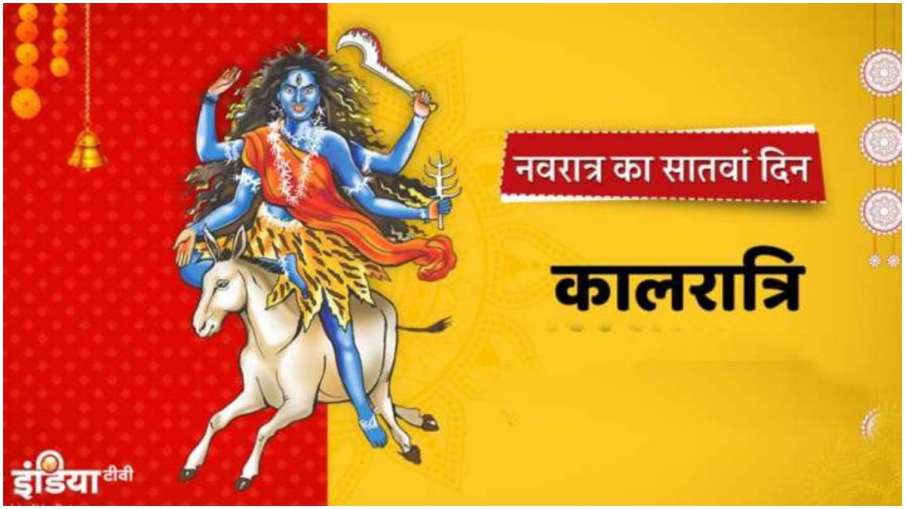 Highlights
Maa Kalratri is worshiped on the seventh day of Navratri.
The vehicle of Maa Kalratri is a donkey, the mother has 4 arms.
Today is Saptami Tithi and Friday of Chaitra Shukla Paksha. Saptami Tithi will remain till 11.05 pm tonight. After that Ashtami date will start. Today is the seventh day of Navratri. The Saptami that falls during Navratri is known as Mahasaptami. Today Maa Kalratri, the seventh form of Maa Durga, will be worshipped. When Mata Parvati renounced her golden varna to kill Shumbha-Nishumbha, she came to be known as Kalratri. Maa Kalratri's vehicle is a donkey and she has four arms, out of which the upper right hand is in Varada Mudra and the lower hand remains in Abhaya Mudra. While the upper left hand holds an iron fork and the lower hand holds a khadag.
Vastu Tips: Light a lamp of ghee or oil in Navratri? Somewhere you don't even make these mistakes
This form of mother may seem terrible to see, but it is very auspicious. Therefore, one name of the Mother Goddess is also Shumbhkari. Among the planets, the lordship of the Mother Goddess is said to be over the planet Saturn. Just by remembering them, ghosts, vampires, fear and any other kind of troubles immediately run away.
Maa Kalratri Puja Method
Worshiping Maa Kalratri in the morning is considered auspicious. Red colored clothes should be worn to worship the mother. The people of Capricorn and Aquarius must do the worship of Kalratri. If in trouble, offer a garland of seven or nine lemons to the goddess. Light an unbroken flame of sesame or mustard oil on the night of Saptami. Siddhakunjika Stotra, Argala Stotram, Kali Chalisa, Kali Purana should be recited. As far as possible, recite the entire Durga Saptashati on this night.
Vastu Tips: Positive energy comes from ringing the bell in the house, but keep this in mind
Bhog to Maa Kalratri
To please the mother on Saptami Navratri, one can offer food made of jaggery or jaggery.
Maa Kalratri will remove all the problems
If you also have a fear of something, then after meditating on Maa Kalratri today, you should definitely chant this mantra. The mantra is-
Jai Twam Devi Chamunde Jai Bhutarti Harini.
Jai sarvagate devi kaalratri namostu te
If there is always a shortage of money in your life or you want to improve your financial condition further, then today by offering obeisance to Maa Kalratri, by offering obeisances, chant this mantra for two rounds i.e. 216. The mantra is –
If chapi varo deyastvayasmakan maheshwari.
Samsmrita sansmrita tvam no hinsethah paramapadah .
If you want to beat your opponents in business, then after showing the incense of Guggul in front of Goddess Kalratri, show incense in the whole house as well. Also, chant this mantra of his 108 times. The mantra is-
Om Sarvaprashamanam Trailokyasya Akhileshwari.
Evameva tvatha karyasmad varivinashanam namo se aam .
Chanakya Niti: Sleeve snakes are such friends, their friendship is good for enmity
If you want that there should be happiness in your life and harmony should be maintained among all the family members, then after bathing etc., offer cumin seeds to Mata Kalratri and sit on a red colored seat and chant this mantra 108 of Goddess Kalratri. You should chant. The mantra is-
Om hrim shree clean durgati nashinyai mahamayai swaha
If you want to get success in every field, then burn two camphor cakes in an earthen lamp and keep it in front of Goddess Kalratri and chant this mantra-
Om yaschamartya: stavairabhi: tva stoshyatyamlanne
Tasya vittirdhavibhavai: dhandaradi sampadam aum.
After chanting, take incense with both hands and apply it on your eyes.
If you want to maintain happiness in your married life, then make a solution of Goronchan turmeric on three leaves of vine and write the name of your husband or wife with the pen of peacock feather and fill it in a silver box and place it at the feet of Mother Kalratri.
Navratri 2022: If marriage is not happening then on the sixth day of Navratri, worship mother Katyayani like this, know the method, fast and story
If there is a hindrance in the marriage of a member of your family, then to get rid of it, offer seven bananas, seven hundred grams of jaggery and one coconut to the mother, on Navami six times coconut, once upright and once in reverse. Throw it in the river after blowing it on the head, take out banana and jaggery for the Moon and Sun God and give a little prasad from the same to the member whose marriage is being hindered. Feed the remaining bananas and jaggery to the cow.
(Disclaimer: Here Gave Went information Gushmick hopeWas And Folk Valuemeans Feather based Huh, India TV This about In Any Kind Of Any Pusht No does Is, This Belongingsy public interest To thvehicle In keeping Here Fifth note of musical scaleJuiceyou did Gone Is,