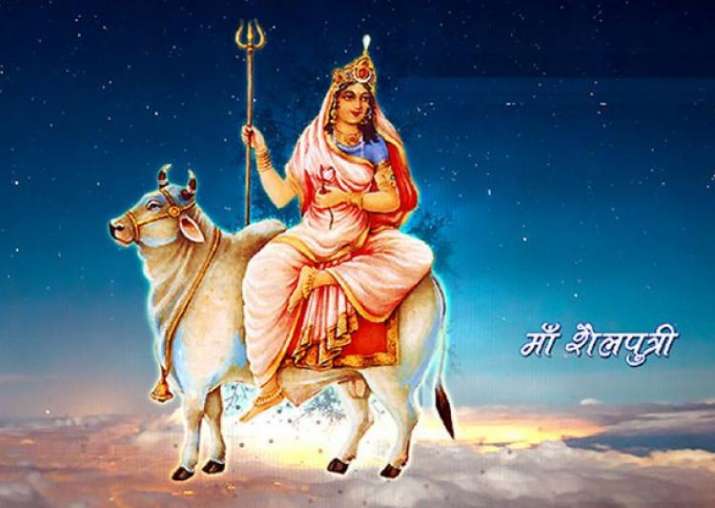 Highlights
She is also called Vrisharudha because of the mother's vehicle being a bull.
Maa Shailputri holds a trident in her right hand and a lotus flower in her left hand.
Tomorrow, on the first day of Navratri, Mata Shailputri, the first form of Maa Durga, is worshipped. According to the Markandaya Purana, she was named Shailputri because of being the daughter of Parvatraj, ie Shailraj Himalaya. Also, she is also called Vrisharudha due to the mother's vehicle being a bull. Let us tell you that out of the two hands of Maa Shailputri, Trishul in right hand and lotus flower in left hand is adorned.
How did the name Shailputri get-
Due to being born as a daughter in the house of the mountain king Himalaya, the mother's name was Shailputri. Mata Shailputri was born from rock or rock. Therefore, worshiping them brings stability in life. Mother is also called Hemavati in the Upanishads.
Chaitra Amavasya 2022: From the increase in food grains to progress in business, do these measures on this day
Kalash installation time

02 April from 06:10 am to 08:31 am
12:00 PM to 12:50 PM
Worship Maa Shailputri on the first day like this-
Tomorrow, on the first day of Navratri, Goddess Shailputri will be worshipped. Worshiping Maa Shailputri on this day brings wealth, opulence, good fortune and health to a person.
First of all, install the idol or picture of Mata Shailputri on the post. After this, purify with Ganga water or cow urine. Establish a urn by filling water in a silver, copper or earthen pot at the post and placing coconut on it. Keep a parai by placing mango leaves on it. After that place coconut on top of it. Then light the eternal flame. Establish Shri Ganesha, Varuna, Navagraha, Shodash Matrika (16 goddesses), Sapt Ghrit Matrika (seven vermilion dot) on the same post.
Vastu Tips: Do this work on the first day of Navratri, the blessings of Maa Lakshmi will rain throughout the year
After this, take a vow of fasting, worship and worship all the established deities including Maa Shailputri by Vedic and Saptashati mantras. In this, invocation, asana, padya, adhyaya, achaman, bath, clothes, good luck formula, sandalwood, roli, turmeric, vermilion, durva, bilvapatra, ornament, flower-necklace, fragrant substance, incense-lamp, naivedya, fruit, paan, dakshina Do Aarti, Pradakshina, Mantra Pushpanjali etc. After that finish the worship by distributing prasad.
To take advantage of all these things on the day of tomorrow, one should worship the Mother Goddess with this mantra-
The mantra is – 'Om Aim Hreem Klein Shailputryai Namah.'
Along with chanting the mantra, it has been told in the scriptures that on the first day of Navratri, sandalwood should be offered to the Goddess as a paste and Triphala should be offered to wash the hair. Amla, Harrad and Bahera are added to Triphala. This pleases the Mother Goddess and keeps her blessings on her devotees.
Face the direction in this direction and worship the goddess-
While worshiping the Mother Goddess, one should keep his face towards the east or north direction of the house.