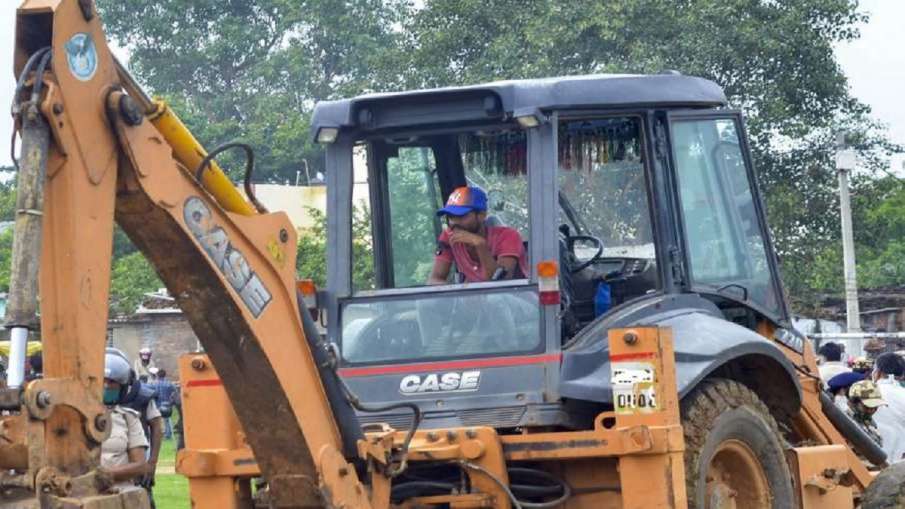 Highlights
Bulldozers ran on the building built by encroaching on the hospital premises for years
The District Magistrate had ordered to remove the encroachment during the inspection
Azamgarh: After the formation of Yogi Adityanath's government in Uttar Pradesh again, bulldozers are roaring in the entire state. The same bulldozer reached the district hospital in Azamgarh district to demolish the encroachment. Perhaps for the first time in the history of the district, someone has gathered the courage to remove the encroachment in the district hospital. The reason is that till date no one had raised voice against the encroachment done years ago. Even the hospital administration had kept silence. The silence was such that even under the supervision of the DM, none of the hospital staff had opened their mouths, but today when the bulldozers roared, people spoke out loud now that no one is going to act arbitrarily.
When Azamgarh District Magistrate Amrit Tripathi reached the district hospital, his eyes were on the building constructed after encroaching on the hospital premises for years. He also asked the hospital officials and staff regarding this but no one said anything. After which the District Magistrate had given instructions to remove illegal encroachments from the hospital premises within three days.
On the orders of the District Magistrate, the SDM reached the hospital premises for the first time with a bulldozer and demolished the shop next to the blood bank. After that he went towards the post-mortem house, where some hospital staff had encroached on the front of the house and kept the animal. He too was dropped by the administration.
SDM Sadar JR Choudhary said that on the morning walk, District Officer Amrit Tripathi reached the district hospital to inspect the encroachment near the blood bank and post-mortem house in the hospital premises and asked other officials including SIC Dr. Anoop Kumar Singh, it was found that the hospital premises People have encroached upon in many places. It was in the notice of the administration in the past too, but no action was taken. At the same time, the District Magistrate had directed SDM Sadar to remove the encroachment done in the hospital premises. This action has been taken in compliance with the order.