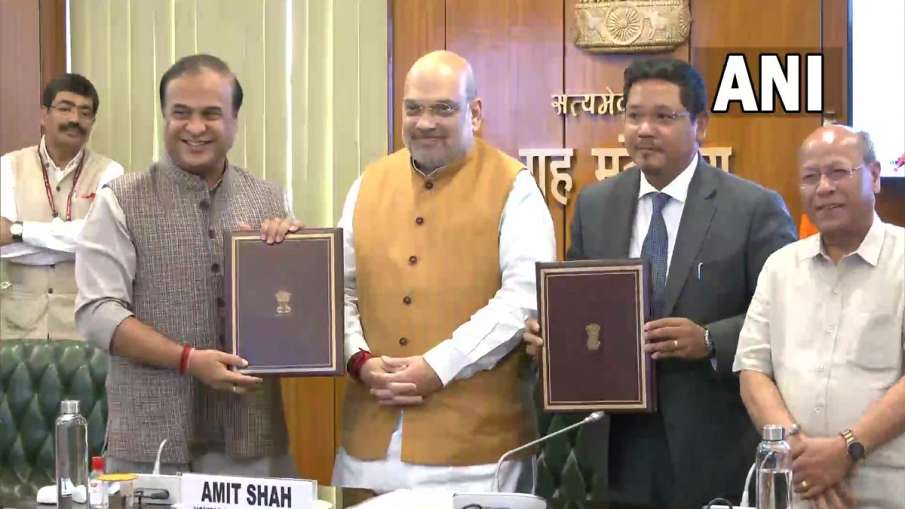 Highlights
Assam-Meghalaya border dispute resolved
50 years old border dispute
new Delhi: Meghalaya CM Conrad Sangma and Assam CM Hemant Biswa Sarma have taken important steps to resolve the ongoing border dispute between the two states. Both the Chief Ministers have signed an agreement to settle the dispute. Earlier in January, both the Chief Ministers had signed an MoU, after which it was sent to the Home Ministry for consideration.
70 percent border dispute resolved: Amit Shah
Expressing happiness on the occasion, the Union Home Minister said, "Today, the 50-year-old pending border dispute between Assam and Meghalaya has been resolved. The dispute has been resolved in 6 of the 12 sites of contention, covering about 70% of the threshold. The remaining 6 places will also be resolved at the earliest." Amit Shah said, "Since 2014, PM Modi has made many efforts for the development of the Northeast region. Congratulate the CM of Assam and the CM of Meghalaya on the settlement to resolve the border dispute.
Agreement is very important – Konrad Sangma
There was a border dispute between the two states for the last 50 years. This agreement has brought a great deal of relief. Meghalaya CM Conrad Sangma said, "Out of 12 areas of difference, we have reached agreement with Assam on 6 areas. In addition, a survey will be conducted by the Survey of India with the participation of both the states, and when it is done, the actual demarcation will take place.
It is a historic day- Hemant Biswa Sarma
On this occasion, Assam CM Himanta Biswa Sarma said that the resolution of the 50-year-old border dispute between Assam and Meghalaya has started today. This historic step has been achieved only due to the continuous efforts of Prime Minister Narendra Modi and Home Minister Amit Shah. He further said that after this MoU, we aim to solve the problem of remaining disputed sites in the next 6-7 months. We will work towards making the Northeast region an engine of development in the country.