[ad_1]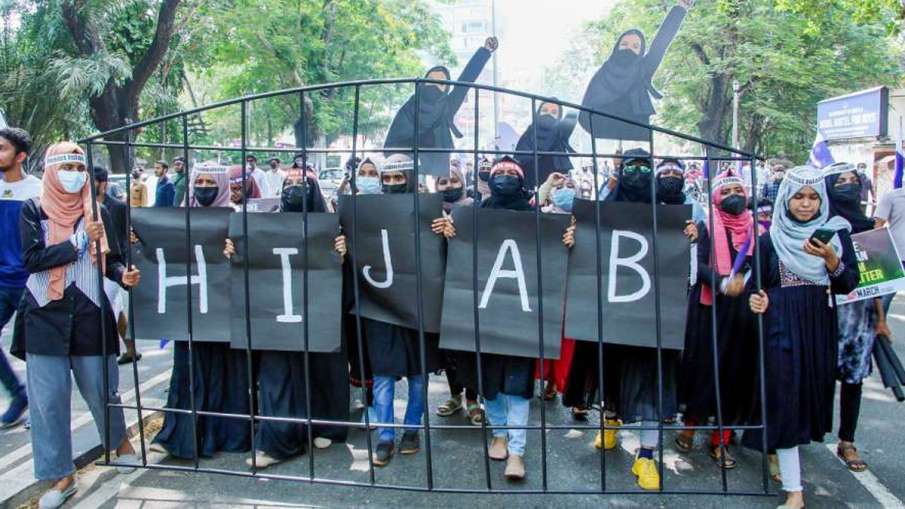 Highlights
Hearing on Hijab controversy was going on in Karnataka High Court
Court said wearing hijab is not necessary in Islam
School and college have every right to decide their own dress code
Delhi: The Karnataka High Court has given its verdict on the Hijab controversy today. The full bench of the High Court had completed its hearing in this matter only last month. A petition was filed by the girls of Udupi in the Karnataka High Court. A bench of Chief Justice Ritu Raj Awasthi, Justice Krishna S Dixit and Justice JM Khaji was constituted on this on 9 February. The girls had filed a petition demanding that they should be allowed to wear the hijab even inside the class, as it is part of their faith. Ahead of the High Court's decision on the hijab controversy, the state government has banned large gatherings in the capital Bengaluru for a week to maintain public peace and order. The four major points of the Karnataka High Court's decision on the Hijab controversy are as follows-
1. Karnataka High Court dismisses petitions filed by Muslim girls seeking permission to wear hijab in class. The High Court said that the code of conduct is necessary inside the class room. Whatever dress the student wears outside the class room, the school-college dress code should be recognized in the class room. Schools and colleges have every right to decide their own dress code.
2. The Karnataka High Court, while giving its verdict on the hijab controversy, said that the wearing of hijab by Muslim women is not a part of the essential religious practice in Islam. The High Court said that the government has the power to issue orders.
3. The court said that so far there is no such preparation for any kind of disciplinary inquiry against the respondent related to this dispute.
4. The court, in its decision, said that it is okay to compel the school to wear a uniform. Students can't resist it.
How the Hijab Controversy Started
The controversy over the hijab in Karnataka started in January. Here in a government college in Udupi, 6 girl students had entered the college wearing hijab. The college administration had forbidden the girl students to wear the hijab, but they came wearing it nonetheless. After this, the girls had registered a protest against the college administration by holding a press conference.
Controversy started from Karnataka to hijab all over the country. Demonstrations were held in schools in support and against the hijab. Even the matter reached the Supreme Court by road.
Karnataka government had taken a decision regarding uniform


In view of the controversy, the Karnataka government had decided to make uniforms mandatory in schools and colleges. Under this, the fixed uniform will be worn in government schools and colleges, private schools can also choose a uniform of their own.



Religious dress is banned till further orders


Some students had approached the Karnataka High Court to ban the hijab. But the single bench of the High Court transferred it to a three-judge bench. During the hearing, the court had banned the wearing of religious dress in schools and colleges till further orders.


[ad_2]