Shaktimaan was considered the biggest superhero of the 90s, now he is coming back once again. Some time ago its (Shaktimaan Teaser) teaser has also been released. Fans are waiting for the trailer. However, amidst all this, what the fans are most curious to know about is that who is going to be seen in the lead character this time. Now we have brought information about this for you. If you are also excited to know who is going to play the lead role in Shaktimaan. So one photo is enough for you to know this.
A photo is seen going viral on social media. In which TV's Shaktimaan i.e. Mukesh Khanna is seen posing with TV actor Nakul Mehta. As soon as this picture comes in front, such speculation has started that Nakul Mehta is going to become Shaktimaan. It is known that Nakul Mehta is called Hrithik Roshan of the TV world. Now the preparations for making a film on the character of Shaktimaan have been completely started.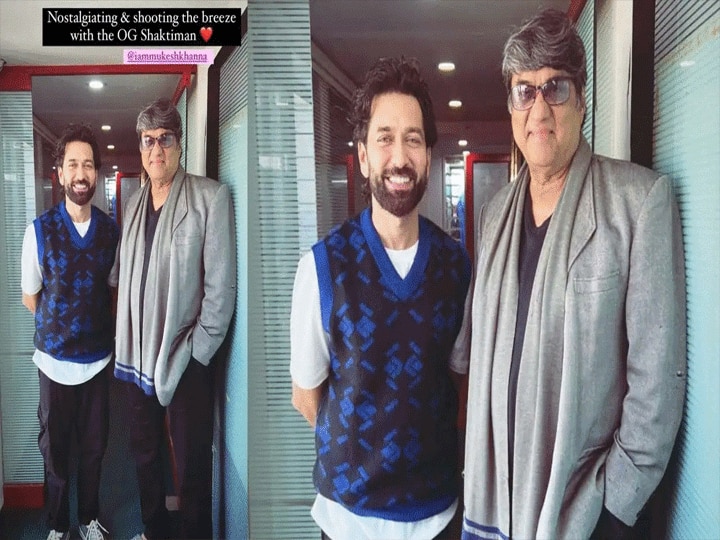 This film is to be made in three parts. Sony Pictures is bringing this film. The teaser was released a few days back. It was seen in the teaser that the shadow of the devil is falling on Mumbai. Not only this, in the teaser, animated Shaktimaan's dress and Gangadhar's glasses were also seen from the graphics. On the other hand, if we talk about Nakul Mehta, then he got the most popularity by playing the role of Shivaay Singh Oberoi in the show Ishqbaaz.
Also read: – When Salman got drunk outside Aishwarya's house at midnight, he had given this threat!
Also read :- At the age of 15, Parvati of 'Dev Ke Dev Mahadev' ran away from home, then achieved this position like this