Bollywood actor Farhan Akhtar and his long time girlfriend Shibani Dandekar got married recently. The wedding photos of both are becoming increasingly viral on social media. Meanwhile, recently, famous actress Gauhar Khan told in an interview that when she, Shibani and Farhan appeared in a show, then all the contestants of the show liked Farhan very much. The actress also said that she also liked Farhan, he too had a crush on the actor. This statement of Gauahar became quite viral on social media, but after this statement of the actress, a portal twisted her story a bit, saying that there used to be a lot of Tu-Tu Main-Main between Shibani and her regarding Farhan. After which Gauahar abandoned Farhan and let him go to Shibani.
When Gauahar got this news, the anger of the actress reached the seventh sky. The actress has expressed her anger by tweeting and has slammed her for doing so. Gauahar wrote in her tweet, 'Oh God! You guys are very dirty, the first thing I was asked in the interview was how happy I am with their marriage, and was asked if I knew they liked each other in I Can do That. The show that we did together. On this I said that he was the crush of all the contestants.
Talking about Farhan who was our host, I am very happy about their marriage. Talking nonsense, even in good and happy moments, is disgusting, horrible and completely wrong. Please let them enjoy. I will not elaborate more than this. What a dirty work people's brains do. Sick! Shame on you…Shame on you…at a time where people are dying because of war. People don't have lives. People are spreading hatred. Some media houses can't stop telling lies which they call news.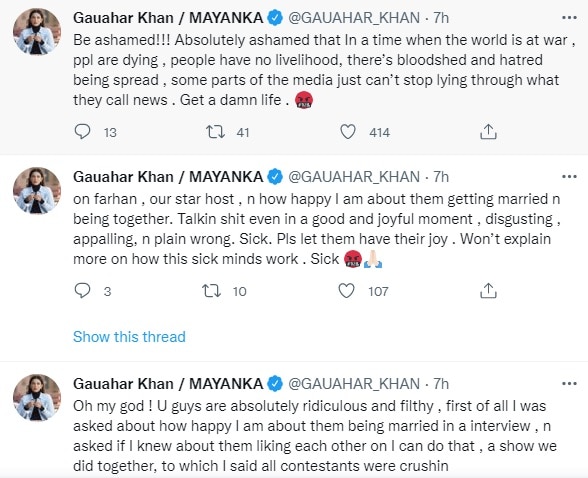 Jackky Bhagnani and Rakul Preet are enjoying a romantic vacation together in Maldives, this photo revealed the secret!